"Time To Moderate Pace of Rate Hikes May Come as Soon as December Meeting" - Fed Chair Powell Nov 30, 2022.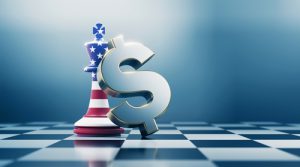 This week, Fed Chair Jerome Powell spoke, and interest rates touched the lowest level in almost 3 months. Let's discuss what happened and look into the week ahead.
On Wednesday, November 30th, the anniversary of the Fed flip-flopping on inflation and telling us they were wrong about its high nature, Powell delivered the most "dovish" speech in a year.
The quote above is the one that really sent the markets soaring, as it confirms the Federal Reserve will lower the size of rate hikes going forward.
Since June, The Fed has raised the Fed Funds Rate by .75% four times. Now the markets are pricing in a smaller .50% rate hike at the Fed meeting in two weeks.
"Growth in Economic Activity has Slowed to Well Below Longer-Run Trend, and This Needs to be Sustained" - Powell.
This quote highlights the Fed's desire to slow demand and thereby lower inflation/prices. Many critics of the Federal Reserve have been saying the Fed needs to slow down the size of rate hikes for this very reason as the economy has materially slowed down. And, the Fed is going to have raised rates by 3.50% in the back half of 2022...none of which has impacted the economy. There is a lag of anywhere from 6 to 9 months for rate hikes to make an impact on the economy, so seeing the Fed acknowledge that conditions have slowed is seen as further confirmation to slow the size of rate hikes.
"The Federal Reserve has been pretty aggressive already with its interest rate hikes and won't try to crash the economy with further sharp increases just to get inflation under control faster" - Powell.
This quote came from the question-and-answer session and confirms what market conditions are saying. We have seen inflation peak and we must direct our attention toward not putting the economy into a deep recession through overly strict monetary policy.
Remember, long-term rates only go higher if the economy can absorb the Fed rate hikes. Watching the 10-yr Note fall from 4.30% to 3.57% over the course of the last month tells us long-term rates are sensing the economy can't absorb much more Fed rate hikes without going into a recession.
Consumer Inflation May Have Peaked
On Thursday, the Core Personal Consumption Expenditure (PCE) Index for October came in lower than expectations and lower than September. With the economy slowing as the Fed Chair acknowledged, we should expect lower inflation readings going forward.
Bottom line: Home loan rates have improved a bit. With more inventory coming to market and many sellers eager to make deals, now could be a great time to consider taking advantage of the opportunities in housing.