Last Week in Review: Fed Hikes, Market Likes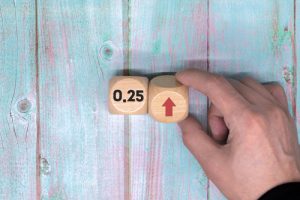 This past week the Fed hiked rates by .25% and home loan rates improved to their best levels since September. Let's walk through what happened with the Fed and talk about what to watch in the week ahead.
"We can now say for the first time that the disinflationary process has started. This is a good thing." Fed Chair Powell 2/1/23.
As expected, the Federal Reserve raised the overnight Fed Funds Rate by .25% to a range of 4.50 to 4.75%. The Fed Statement and subsequent press conference also contained "dovish" tones where the Fed offered hope that inflation is headed lower and future hikes would be dependent on the incoming data.
"We haven't made a decision on exactly where rates need to end up." Jerome Powell.
Here, the Fed Chair was non-committal on where he sees the Fed Funds Rate reaching the terminal rate or peak. In his press conference, he reminded everyone the Fed will release their updated quarterly economic projections and forecast for rates. Meantime, the financial markets have their own idea of where rates are headed and are pricing in multiple rate CUTs later this year.
This means in the months ahead we should expect uncertainty and volatility as economic reports are released and Fed officials speak.
3.33%
Last October, the 10-year Note yield, which moves up and down with home loan rates, was 4.30%. Four months later, the yield has declined sharply to 3.33%. It is important to note the 10-year yield does have an important technical barrier right at current levels which may limit how much better rates can get in the near term. The trend for longer-term rates remains lower which is a good thing.
Labor Market Resilient
"By many, many indicators, the jobs market remains strong." - Powell.
The JOLTS report showed 11.1M jobs available and with 5.7M people unemployed, we have a nearly 4.5M person shortfall to fill open positions. The latest first-time unemployment claims are also at multi-decade lows, which further highlights the continued strength of the labor market.
This is great news for housing and the notion the economy can land softly and avoid a recession.
Bottom line: Rates have continued to improve since the start of the year. Couple this with continued strength in the labor market and you have multiple reasons to see housing sales improve going forward.